Your solution for transformation and strategy projects
No matter how many initiatives, measures or ideas you track in your business transformation: Falcon keeps them all together and helps you plan, measure and report at your fingertips.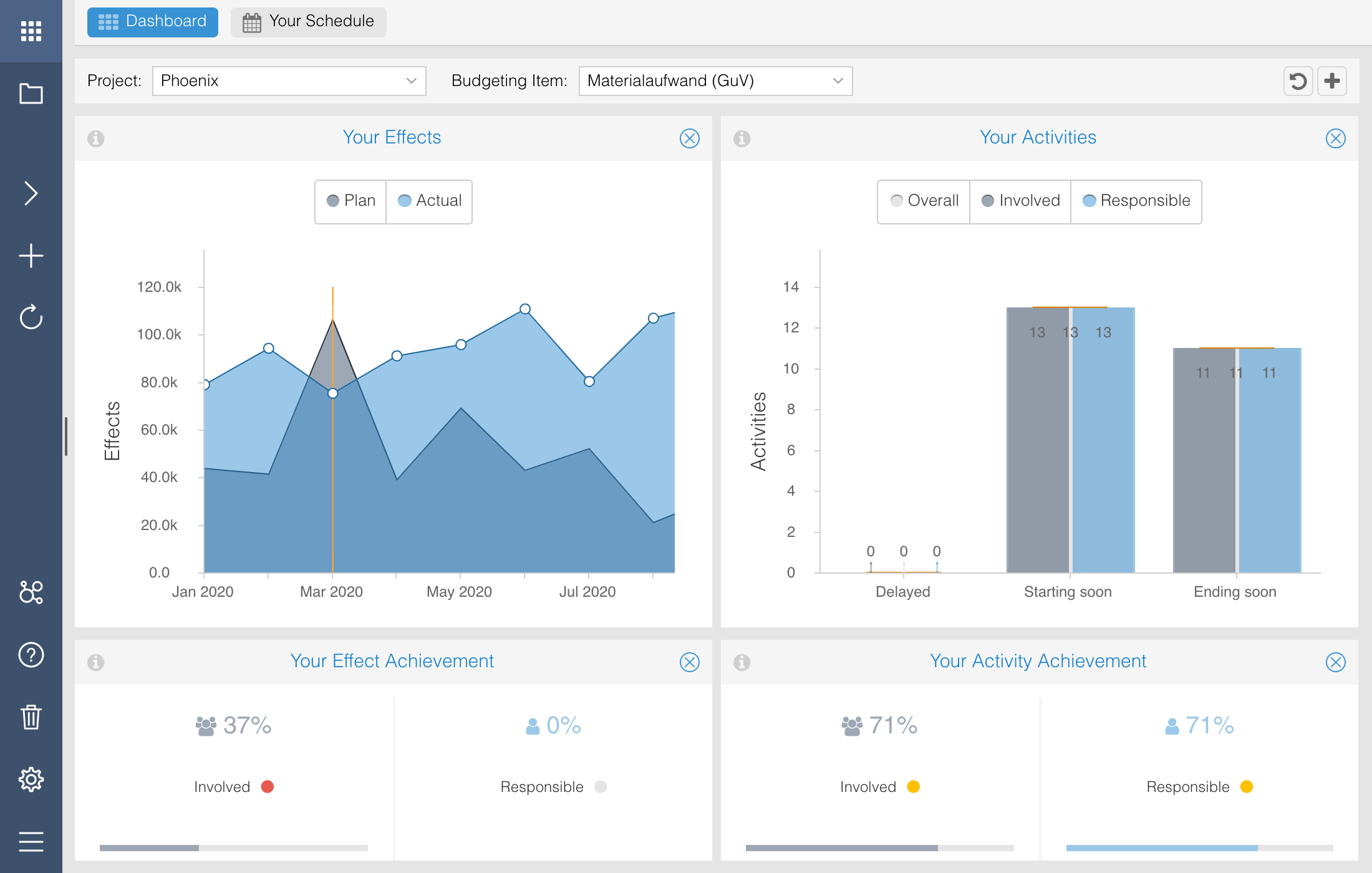 Everything at a glance
The chaos finally comes to an end! Falcon shows you all strategic measures at a glance. Never again will your strategy projects be scattered in different lists, mails and reports. Falcon combines all schedules, budgets and status reports and aggregates them automatically. So you can keep an eye on the big picture and trust that your strategy is delivered. Work with your team on your truly important initiatives - relaxed, in real time and from anywhere.
We love our customers
Great corporates, mid-sized companies and consultants trust us - among others, market leaders like:
Project tree
Overview and structure
Divide your strategy projects into manageable packages and define responsibilities. Falcon's simple tree structure makes this complex task a breeze. With numerous templates your implementation strategy is ready in no time.
Schedule and effects
Plan and track
Keep milestones and financial effects of your strategic projects always under control. Falcon automatically merges everything and aggregates live. This way, you can assess the overall status and make informed decisions at any time.
Analysis suite and reporting
Analysis and reporting
Not only dashboard and stats for a quick assessment of the current status. With Falcon's proven one-click PowerPoint reporting you can report the most important content to all stakeholders in seconds - from the big picture to the smallest detail. The reporting system is complemented by flexible reporting templates or the BI tool of your choice. Because Falcon's extensive export function generates exports optimised for analysis tools. Regardless of which way you choose, thanks to Falcon you can quickly access all relevant data and save valuable time when reporting for the next meeting. Perfect for monthly reports and status meetings.
Falcon is ready with a few clicks and very intuitive to use
You are in good company
Falcon is quick to implement and very intuitive to use - exactly what we need for our strategy and transformation projects!
A smooth transition from the concept phase to implementation is central to a successful transformation. With agile tree structure, time and effect tracking as well as reporting at the push of a button, Falcon makes it easier for our teams to lead and control measure initiatives and enables us to rapidly implement transformation programs.
In transformation projects it is important to concentrate on the essentials. The intuitive operation of Falcon helps to quickly create transparency about many measures and their effects.
With Falcon, we can transparently track our strategic projects across multiple holding companies without having to version and send large Excel sheets. An intuitive user interface helps with the quick implementation across different company levels!
Falcon gives us the opportunity to set up transformation projects pragmatically and professionally right from the start, thus significantly increasing the acceptance of change among our clients.
Simplicity, short implementation time and the efficient management and communication of our transformation projects make Falcon unbeatable and raise our work to a new level of quality.
Falcon is the long-awaited and much better alternative to the Excel monsters that used to accompany us on strategy projects.
Falcon helps keeping an eye on the numerous projects and keeps our transformation structured, whilst promoting transparency in all projects and all areas.
Falcon enables us to intuitively monitor and control strategic projects together with our clients.
With its project tree, Falcon allows us to easily keep an overview of a large number of improvement measures at the same time. This is complemented by excellent support that leaves nothing to be desired.
Falcon helps us keep track of all relevant initiatives across all our locations worldwide and report to all relevant stakeholders with just a few clicks.
Time for your transformation
Are you in charge of transformation and strategy projects in your company or as a consultant? Are you missing a central overview of your most important initiatives? Falcon helps you to implement your strategies in a truely efficient way. Leading companies have already been successful with Falcon. Join them now!