When costs take over and sales fall, management is often forced to lay off employees. But what are the alternatives to the wave of redundancies? How can you restructure a company that has fallen into difficulties in order to save jobs? We present eight proven alternatives.
Workshop: Restructuring the business model
In many companies, the size of the workforce is not due to total mismanagement, but simply to the production targets that have been set. A simple job reduction with constant or even increasing targets is not realistic here, because a smaller workforce cannot do the work of the missing colleagues in addition to its own area of operation. A new business model with scalable approaches is needed. A workshop is a good place to discuss topics such as digitalization and automation with a view to higher scalability, which will meet increasing corporate goals. You will find instructions with the four steps for this in our blog post "Destroy Your Business". In this way, you can structure existing company resources into new, profitable business models.
Reducing salaries and offering less work
If the company is threatened with serious economic damage, salary cuts are legal. This is important:
The cuts must not be arbitrary. All employees should be affected to a comparable extent.
Communicate the negotiation of new salary structures with your employees clearly as an alternative to dismissal, but without threatening to reduce wages.
If you obtain the employees' consent, do not in any case comply with salaries without an adjustment to the employment contract agreed by mutual agreement.
Salary cuts can also be combined with reduced working hours or job sharing, in which two positions are merged into one and filled part-time by two employees. You may also be able to cut part of your salary and replace it with tax-free benefits such as fuel vouchers. These are tax and social security contributions for both sides, but only up to €44 per employee per month.
Incentivating early retirement or part-time work for older employees
Offer older employees early retirement. These employees often benefit from salary structures that were negotiated in times of different economic circumstances or have grown over many years of company service. If they retire before their employment contract expires, you can hire employees at a lower salary level. For the employee who takes early retirement, however, this results in a reduction in the pension rate. The question of severance pay may arise.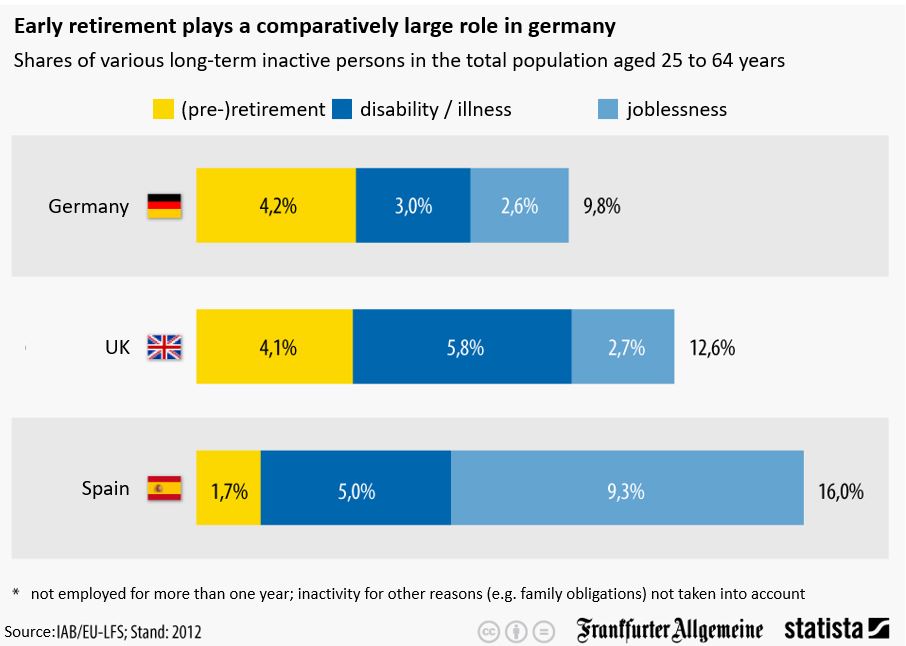 An alternative to early retirement is partial retirement, in which employees reduce their working hours to 50% before retirement. This eliminates some of the labour costs, but of course also reduces the availability of employees. In the case of semi-retirement, employers must ensure that a wage increase of at least 20% is provided for by law - your employees therefore receive a higher hourly rate. The employee can take the released working time either continuously or in a block model. With this variant, the employee continues to work half of the working time planned until retirement full-time, but only receives the part-time salary. At the end of the first half of the previous pension period, the employee is released from work and continues to receive the reduced salary plus the wage increase.
Employee participation
You can offer an Employee Buy-Out to retain employees for the long term, strengthen their identification with the company and boost productivity. Employees buy shares of the company. In a direct transfer, salaries can be converted in whole or in part into shares in the company, which are then permanently transferred to the employees. This saves the company labour costs and reduces the burden of taxes and social security contributions on employees. If a short cash injection from outside capital is required, employees can grant the company an employee loan. The employer deducts part of the salary by mutual agreement and pays it back at a later date, plus an interest rate that depends on the company's profit or turnover.
Long-term strategy: in-house retraining
If certain workplaces, positions or departments are eliminated in the future, the employees concerned can be retrained and cover other workplaces in the future. There may be related areas of application that require little training - for example, if maintenance staff can switch to production or assembly. Will new positions or departments be created in return? Then consider which employees have suitable skill sets for a change and what support you can provide to prepare them for a new area of work.
This alternative requires a long-term perspective and a timely view into the future. The right time to implement this strategy is before the company gets into economic difficulties or even threatens to become insolvent. It is a good choice when market or company changes are slowly gaining ground or are foreseeable in the long term and can therefore be planned.
Company surveys
Take advantage of the know-how of your staff and draw on suggestions for improvement that come directly from the experts concerned. Your employees often have concrete suggestions for optimizing their products or work areas and approaches for developing new products, processes or corporate strategies. In our article on improvement measures, you can read how you can shape this process with bottom-up planning.
Investigate employee benefits
Your company may spend a lot of money on employee benefits such as company cars, Christmas parties, daily meals, travel or employee gifts. The simplest method is to simply delete them. But what alternatives do you have to reduce expenses without upsetting employees?
Instead of bonus payments, offer e.g. longer unpaid time off for sabbaticals or further training.
Link Christmas bonuses or similar special payments to the achievement of sales targets.
Employee programs in which your employees receive discounts on products and services from other providers are also a valuable alternative that does not cost you any money as an employer.
Do you have a product or service that employees can use for free without incurring additional expenses?
If you already provide your employees with company mobile phones with flat rate contracts, you can also allow private use here as a benefit.
If company cars are only used sporadically because your employees are not regularly on the road, e.g. in the field, then it might pay off to switch to a car sharing service in which only journeys actually completed have to be paid for.
Here, too, it may be worthwhile to think about tax- and social-tax-exempt payment slips.
There are no limits to your creativity here. You might even develop a few unique ideas that will strengthen the cohesion of your company for the difficult times and positively influence the working atmosphere.
Home Office
If you have the advantage of flexible leases on your office real estate, you can reduce expenses by outsourcing employees to home office and reducing the size of your locations. If you do not rent your office real estate but own it, you can rent the vacant workstations to other companies and thus create an additional source of income.
Working from home office has the advantage for employees that they have less travel time and costs, which simplifies childcare and leisure activities and relieves the stress of everyday life. Often, workers at home can be more concentrated and more productive due to a lack of distractions. Important: This is not the right form of work for every employee, many people then lack the social aspect. This can be remedied by a hybrid form in which several employees share a workplace in the office and spend one day in the office and one or more days in the home office alternately.
What are your experiences with downsizing? Have you already tried one of the methods presented or do you know any other alternatives? Then feel free to write to our blog team at info@nordantech.com or write us on Facebook. We are always looking for exciting input for new contributions and look forward to a lively exchange with you!