Transformations are extremely complex and run alongside day-to-day business. Therefore, a common understanding of what needs to be done, when and by whom is absolutely essential for the success of your project.
In general, two out of three transformations fail. By working closely with our clients over the past years, we have been able to identify some best practice approaches that can facilitate the path to successful transformation in terms of management.
A good way to approach complex projects is to have a so-called "governance", which is presented during the kick-off meeting and then shared with the whole project team. For this reason, we address governance in this article. It is difficult to establish a general definition of the term governance, as it is used in many ways, including in the field of administration: The German Institute of Urban Affairs defines governance on its website as follows:
"Governance is understood as the system of rules and coordination of the state, a municipality, an administration or another organisation. The term is used in many areas of politics, business and society."
"Unter Governance wird das Regel- und Koordinationssystem des Staates, einer Gemeinde, einer Verwaltung oder einer anderen Organisation verstanden. In vielen Bereichen von Politik, Wirtschaft und Gesellschaft wird der Begriff gebraucht."
In addition, there is the term corporate governance, which describes the legal and factual regulatory framework for the management and supervision of a company. (see. Gabler Wirtschaftslexikon).
Consequently, corporate governance also plays an important role in corporate management and the steering and administration of companies. This definition of governance is most applicable to the project context and transformations: This is because, in the best-case scenario, this term is a living document that is available to every project participant at all times and in which certain standards, norms and pointers are communicated to the entire team. Uniform governance can also save the PMO a lot of work in terms of managing the project.
In this article we define the 5 must-haves, which should always be part of a governance:
Organisational Structure & PMO
Cycle
Role of Falcon
Level of detail
DOI System
1. Organisational Structure & PMO
The organisational structure defines who has responsibilities where and who is responsible for certain measures or even projects. In addition, the role of the PMO should be clearly defined. Here it is important that everyone involved has an overview of the project. Everyone involved should know who to contact for which issues - thus, contact persons, but also responsibilities and rights of disposal should be clear. Most project leaders present the organisational structure as an organisational chart. This shows which working groups/workstreams and processes there are, who leads these areas, who takes over the project management and the overall responsibility, and of course where the PMO is located.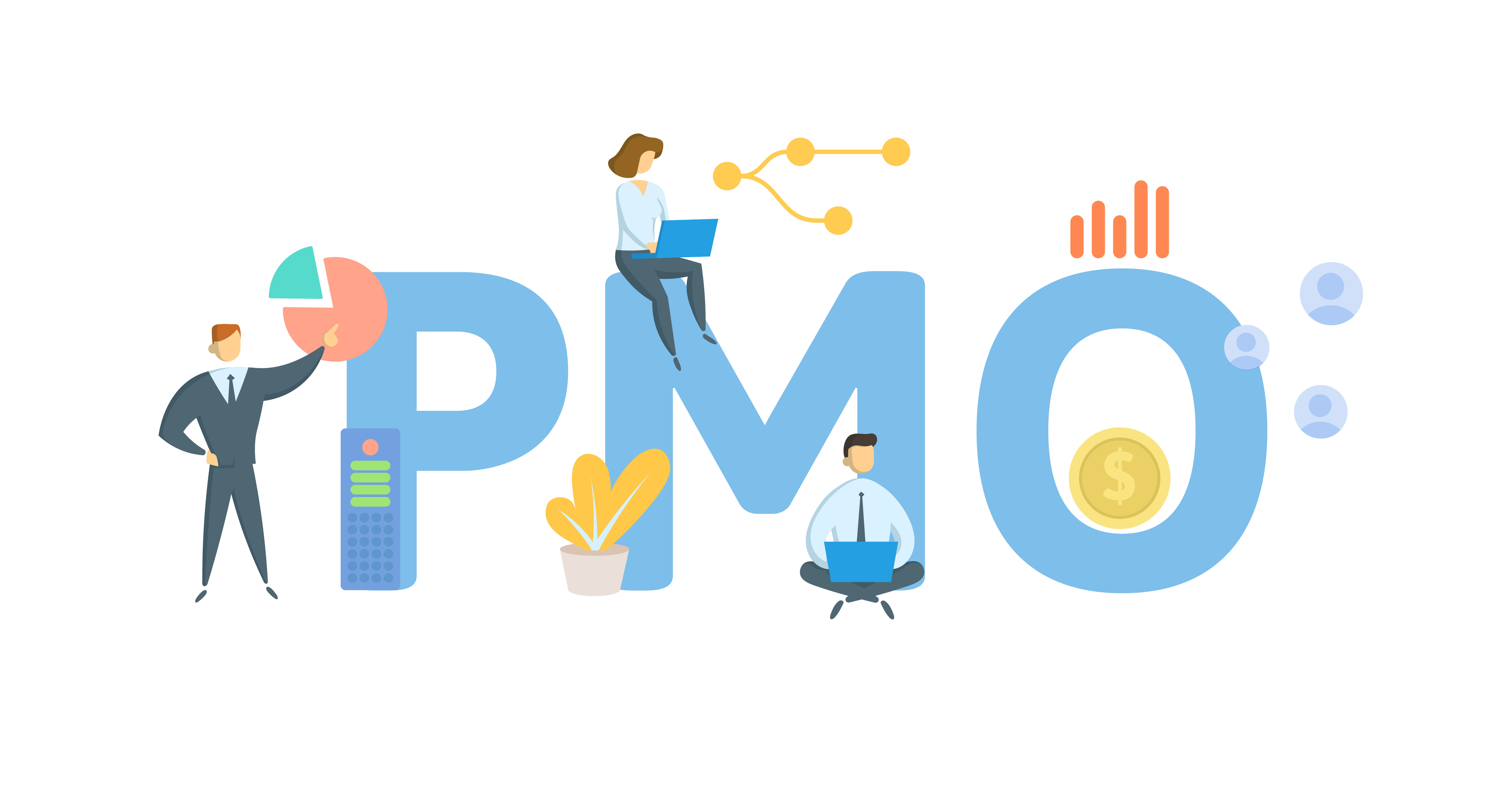 2. Cycle
The project cycle helps establish a successful routine for project work. There is hardly anything more important for the management of your project than the quasi-religious pursuit of this cycle. Because only with this regularity can the project be accompanied well enough by the PMO and problems be reacted to in time. Experience shows that without a strict cycle, transformations are almost always doomed to fail - because they fall asleep.
3. Role of Falcon
All project participants should first be clear about the role of Falcon. Why are you working with Falcon? What should be reflected in it and what should not? What advantages does Falcon offer you and all those involved? Here the project goals should be clearly defined and how Falcon helps to achieve them. An important aspect here is the "flight level" and aggregation across several project components. Falcon does not serve to map the day-to-day business, but the transformation efforts including the (often financial) effects. It is therefore not in competition with other, original PM tools.
4. Level of detail
The level of detail describes how deep you go into the detail. What is considered an activity, what is still considered a measure? Here it is important to define a flight level and find a denominator that all participants can work with in a meaningful way. Only then can you ensure that the individual projects/measures are comparable.
5. DOI System
The classification of measures into so-called degrees of implementation (DOI) represents a special type of project phase and illustrates how close planned effects (e.g. planned savings) are before realisation. A common system starts with the idea (DOI1), goes through evaluation and approval (DOI2), goes into implementation (DOI3), comes to the point where all activities are completed (DOI4) and ends with the realisation of the effects (DOI5). The DOI System facilitates the controlling of your project progress. You choose the logic for your degree-of-hardness system yourself. But this logic should be absolutely clear to every participant. This is the only way to ensure that the project participants also know when the next phase can be started - or whether the latter is in danger.
If you have integrated these five components of this article into your governance, nothing stands in the way of a smooth project start and a structured project process with meaningful control. Governance is therefore a real game changer for the management of your transformations.
In our free "resource "governance is key", you will find more detailed information as well as an overview of other nice-to-haves that can be helpful in the context of governance for you and especially the management and steering of your project.