A Project Management Office (PMO) is an enormous help for the successful course of a project. There are different maturity levels that a PMO can reach in a company, the so-called PMO Maturity Levels. In this article, you will learn more about PMOs, their tasks and maturity levels.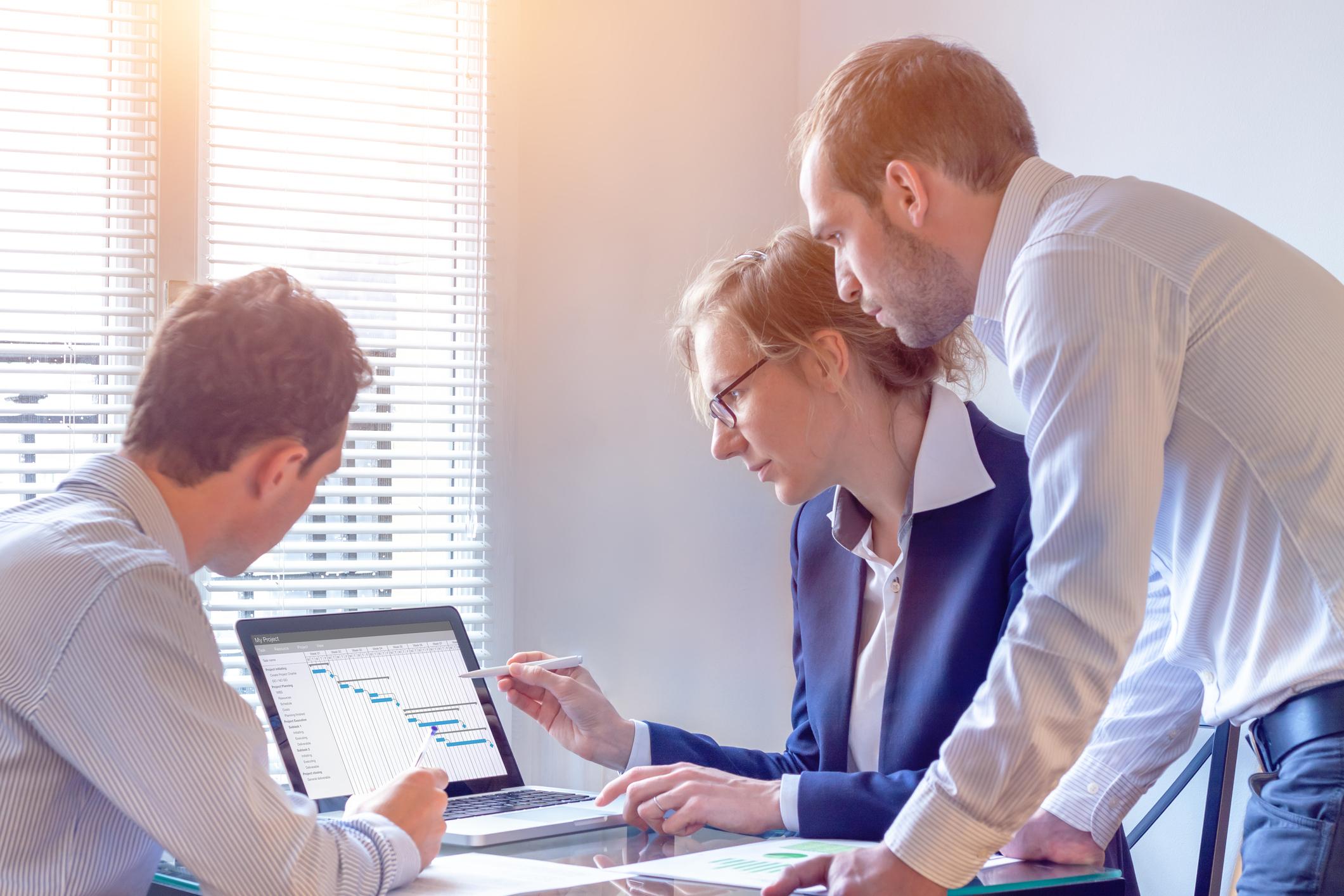 Excursus - What does the word PMO mean?
The abbreviation of the term "PMO" derives from English and stands for Project Management Office. It was introduced by the PMI (Project Management Institute), which has already published several standards and methods on the topic of project management work. The main task of the Project Management Office (PMO) remains more or less constant: It supports the project participants in planning, recording and information management, establishes project governance as a guideline for all participants and helps to maintain a comprehensive overview of all relevant processes and tasks. In doing so, the PMO focuses not only on individual projects but on the entire project landscape or project portfolio of the organization. In most cases, the PMO's activities ultimately culminate in the creation of a uniform reporting system for the company. PMO is not a fixed term here; the terms "TMO", "project office" or project staff unit are also frequently used in this context in companies.
Which tasks do PMOs have?
The tasks of a PMO can vary: In an organization, the Project Management Office (PMO) plays a central role in project management or project portfolio management. It manages project selection and prioritization, creates governance structures, and establishes a regular reporting cycle for stakeholders. The PMO plans and monitors projects, optimizes the use of resources, and promotes reusable standards and management methods. It works closely with project managers to ensure efficient resource management and successful execution of tasks in the team. All in all, the PMO contributes to the effective management and control of projects.
This article will focus on the PMO Maturity Level Model and how you can use the different maturity levels to build and use your Project Management Office organization according to your individual needs.
PMO Maturity Levels - Building organizations according to your needs
The PMO Maturity Model is a concept widely used in the Anglo-American world, which evaluates the maturity of a project management office based on a systematic approach. PMOs are differentiated on the basis of five different maturity levels (L0 - L5). Even though the term is still not widely used in the project management community in German-speaking countries, this model can be used to determine how established a company's PMO is, what competencies it has, and in which project areas further development may make sense.
Project Management Office from L0 to L5: What happens in which maturity level?
L0 – Non existent
No PMO exists in the organization yet. Project resources are allocated on an ad-hoc basis by all employees in the project teams. There are no uniform, overarching processes. Budgets are partially in place, but benefits are not planned and tracked. A tech solution, like a pmo tool, is not established.
L1 – Reactive
In most cases, there is no PMO in the organization, but in some cases, there is a so-called PPM leader who manages project resources for central projects. Otherwise, work is done on an ad-hoc basis and resources are allocated by employees and, in some cases, project managers or project teams. First processes for central projects (especially reporting) exist. Budgets are planned and tracked for projects, but no benefits. Milestone planning is partially supported by a PMO tool, but there is still no portfolio aggregation that brings together results from different projects in the company.
L2 – Developed
At this maturity level, a PMO has been established that organizes all project resources of the organization for central projects. In addition, processes for central projects, such as a reporting cycle, have been established in the company. Initial portfolio analyses and decisions have been made. Projects have budget planning and tracking, and in some cases benefit and outcome planning, but this is not systematically tracked. Milestone planning is usually already tool-supported, whereas budget planning is still carried out via spreadsheets. Portfolio aggregation only takes place for central projects.
L3 – Integrated
The PMO organizes all project resources in the organization. Projects are prioritized and released on a portfolio basis. Risks are also recorded centrally and project reporting is carried out centrally. There is budget planning and tracking for the projects and now also benefit planning and tracking. A PMO tool is also established for aggregating and controlling the project portfolio.
L4 – Efficient
A PMO is established and positioned in the organigram - usually directly under the executive board in the management. As the PMO has an organization-wide view, the addition "(E)PMO" is often chosen at this level for "Enterprise Project Management Office". Similar projects are grouped together in programs. Budgets and benefits are planned and tracked for all projects. Milestones, budgets, benefits and risks are collected and aggregated centrally in a tool. An additional task of the PMO's work is to support change management in the organiation and to involve the team.
L5 – Optimized
There is a formal PMO career path and a PMO role profile. The strategic roadmap and the program roadmap are implemented centrally via (E)PMO. Budgets and benefits are planned and tracked for all projects. Scenarios are modelled centrally across all programs and supported by a software, e.g. a PMO tool like Falcon.
The classification into PMO Maturity Levels is usually based on the following aspects:
People: How is the PMO composed?
Process: Which processes and tasks run via the PMO?
Finance: How does the PMO plan the budget and effects of the projects?
Tech: What tools and techniques are used by the PMO?
PMO as key to success: High performers achieve cost savings
The chart below shows that the cost savings and benefits that companies achieve per project increase in percentage terms with the maturity level of the PMO. It can therefore also be financially beneficial to invest in the PMO and to increase the maturity level. However, there is no linear correlation. It was also found that from level 2 onward, it becomes increasingly difficult and expensive to reach the next level.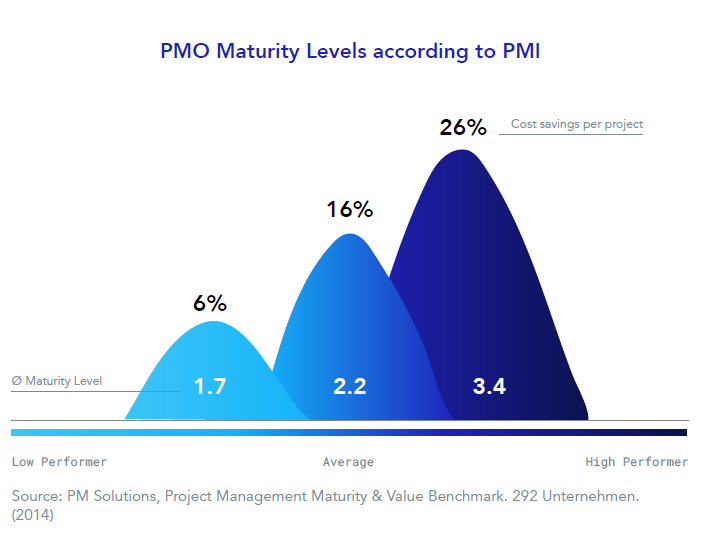 Tip: Mix & Match is possible
Even though it may look like it at first glance - it doesn't always have to be L5! The maturity levels are only a point of reference and also correlate with the size of the company and your projects. Especially in transformation situations, a step from e.g. L3 to L4 can be very difficult - often a mix of L2, L3 and partly L4 makes sense then. We recommend that you regularly assess the situation, assign employees to the right positions, and restructure tasks. In addition, you should establish the PPM/ PMO logic and the common PPM methods beyond the transformation scenario.
Conclusion:
This article illustrates the significant role of the Project Management Office (PMO) in project support and presents the PMO Maturity Model according to the PMI, which describes the development of the PMO in five + 1 maturity levels (L0-L5). Higher PMO maturity correlates with greater cost savings per project. The flexibility to combine different maturity levels is emphasized and regular assessments for continuous improvement in your Project Portfolio Management are recommended.
Do you want to dive deeper into the world of the Project Management Office or the PMO Maturity Levels? Then you should check out the world of our Nordantech resources!