Royal de Boer
focused on a new growth path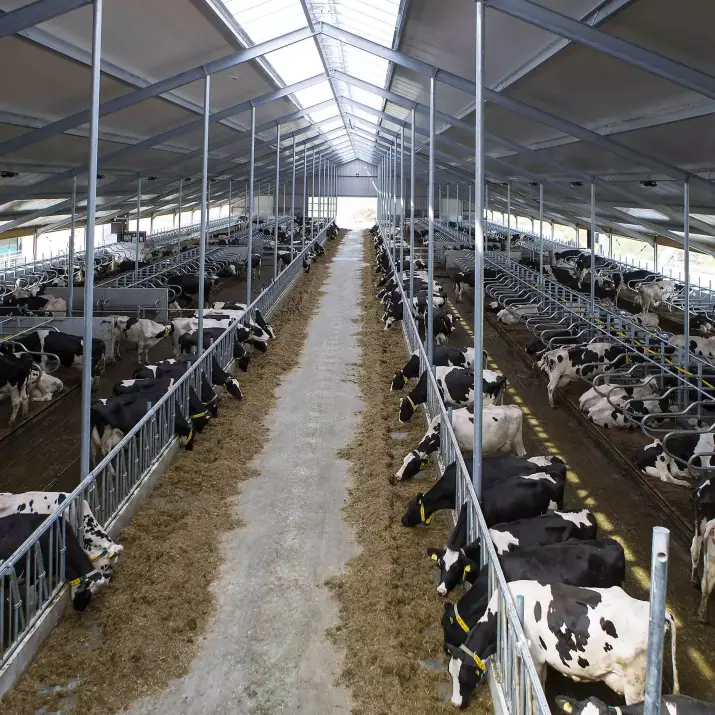 Sector
focused on a new growth path

Founding
1869

Sales
20 Mio. €

Employees
115
What's it about?
Royal de Boer is one of the leading manufacturers of barn equipment and has been operating for over 150 years. The company, which was founded as a family business, has its headquarters and a production facility in the Netherlands - from where Royal de Boer operates internationally. The brand is particularly known for its high-quality products, such as feed fences, cubicles, ventilation, and manure systems.
Royal de Boer is undergoing a short-term realignment process with the aim of focusing on future growth. The focus is on direct sales, optimising the product mix and increasing overall efficiency.
Royal comfort for cows: The Akwatopsoft waterbed is a product in the RdB range that combines the advantages of a cow mattress with those of a traditional waterbed.
Success Story:
Around 15 users are involved in the Royal de Boer transformation project in Falcon. They are responsible for the implementation of around 112 measures and keep a constant eye on the most important information with the help of the software. Falcon's intuitive handling and simplicity enables project participants to record the development of the most important ideas and measures. Essential decisions, risks or even additional resource requirements can be communicated transparently via a regular status report.
The aggregation of data, especially effects, also plays an important role. The team can track, filter, and analyse data across projects - directly in Falcon or via an Excel export. Visual support is provided by the traffic lights in the project tree, which show immediately where things are going well and where there is a need for optimisation.
I especially like that the tool is so easy to use and how quickly the customer service team responds. I have rarely seen such good service.
Usage
Reporting Cycle
four-weekly
Favorite feature
Filter aggregation
Most used measure type
Direct Sales Focus
Results
Significant improvement in results
Optimisation of various processes
Increase in transparency
Can we call you back?
We will call you back at a time convenient for you and answer all your question in a brief phone call.